When many homeowners have an issue with their garage door opener, they visit their local home improvement store for a solution. Most stores that deal with hardware will carry a small selection of garage door related items. A great number of these stores, such as Lowe's, Home Depot and Sears sell a retail version of many professional brands of openers. The most popular of the retail brands on the market is Chamberlain. Chamberlain is made by the most innovative garage door opener manufacturer in the world, LiftMaster. Call our Spring TX garage door service company for our take on all available openers. Let's examine the difference between retail and professional models, and how you might go about choosing a new garage door opener.
Things that you may want to consider:
Size of door
Weight of door
Number of times the door is used per day
Is there a room above or beside the garage
Chamberlain Garage Door Opener – The Rail System
The major difference in a Chamberlain garage door opener and a LiftMaster garage door opener is the rail system. Chamberlain openers are made to fit in a small box and fit neatly on a store shelf. To accomplish this, the rail system has to be broken down into small pieces and be light weight. That's why the rail systems for Chamberlain openers come in 3 pieces that must be assembled. If you have a door that is taller than 7′ the rail system will need an extension which makes it four pieces. In my opinion, the steel that comprises these rail systems are too thin, and the joints cause weakness. That's why, I only recommend the use of these rail systems on single car garage doors that are very light.
Chain or Belt or Screw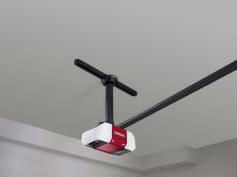 Both Chain and Belt rail systems are very durable. The major difference that a customer will see when comparing a chain and a belt system is the noise that they make.
Belt openers are generally much quieter. If you have a very small door that's light weight and you are not concerned with a little extra noise you can use a Chamberlain Power Drive or another retail version of a ½ HP Chamberlain Opener.
For anything larger, I would employ the use of a LiftMaster Professional Opener. As for Screw Drive Openers, I just don't recommend them. We have used Genie screw drive openers in the past with a poor service record.
The Motor
The next step in choosing a door opener is to determine the number of times a day an opener is used. Historically, most garage door openers have been AC powered. In recent years, many manufacturers have started to use DC power also. The advantage with DC power is:
DC openers are battery backup compatible
Quieter Operation
More energy efficient
Both LiftMaster and Chamberlain sell AC and DC powered motors. If a homeowner were looking for a super quiet opener that gets a lot of use and wants to use a battery back-up then there's no better option than DC power. If the opener gets used less than 8 times a day then a standard AC opener will do a great job.
Our Recommendations:
If you have a small door and noise is not an issue then the LiftMaster 3255 chain drive or the Chamberlain Power Drive will get the job done. For double car garage doors, the LiftMaster 8355 or 8550 is my overall pick of the LiftMaster family which also includes Craftsman, Stanley and Access Master garage door openers.
Note: If you have a double car garage door that is not insulated or seems to be very light you can go with a Chamberlain Whisperdrive. These openers are also quiet and reliable in the right application. Contact us today to discuss your options.