Thank you for considering Sentry North Garage Doors; your trusted top quality garage door installer and parts provider in North Houston Spring, TX. We offer both residential and commercial garage door sales and services.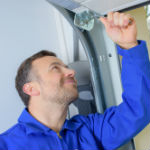 Ask for your free estimate on the type of garage door you desire or the garage door repair services you need. We are always happy and eager to provide you with expert and courteous services. From you first encounter with us, you will only experience professionalism from customer handling to project workmanship and job completion.
We believe that the best advertisement comes from satisfied customers. Their favorable referrals and positive reviews have kept us successful in the garage door installation and service business over the years. Our value for our customers is high, and all our servicemen conduct themselves with utmost respect and tidiness while at work.