Don't Become a Victim of Scam When Getting Your Garage Door Repaired
After the recent storms, homeowners are advised to check for structural damage around their home and this includes the residential garage door or commercial overhead door. For one, being the largest and one of the most vulnerable entryways in your house, a weak garage door could easily become a safety concern for your family. This is why you may need to call in a professional garage door company to inspect your garage door. If you're in such a situation and a contractor shows up at your doorsteps, offering immediate repairs at a decent price, it doesn't make sense for you to say "no," right? Wrong!
Garage Door Company Scammers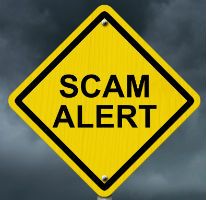 Within days of a disaster, rip-off contractors come to the affected area, ready to take advantage of homeowners desperate to get repair work done on their property. Often these so-called 'contractors' try to convince homeowners that they need to pay a large sum of money as a deposit for the repair work to begin. In most cases, the job will be started, but not completed and you'll never hear from these scammers again. Other such contractors use cheap and low-grade materials and deliver a substandard quality of work in order to make more money off you.
It's sad but true that there are scams operating at these difficult times when you may be too distraught to be thinking straight. But there are ways you can identify them and avoid falling prey to their tactics. Sentry North Garage Doors recommends the following:
Before Hiring a Contractor, Always Check Their Credentials
Most of these shady contractors come with no license, history or way to get in touch if something goes wrong. Don't hire someone who surprisingly shows up and offers immediate repairs. Check their credentials and make sure they are employee of a company that's licensed, bonded and insured.
Do not allow anyone who calls themselves a 'contractor' to commence work on your property without furnishing the necessary paperwork such as contractor licenses, permits and liability insurance. Also research the contractor's performance and history with the BBB and/or relevant trade association(s).
Stay Away from Deals That Sound "Too Good to Be True"
You should be leery of a contractor that offers irresistible prices. Many fly-by-night companies offer lowest bids to get you hooked. And, once you agree to their terms, they will either do a poor job of repair or install inferior parts and simply disappear. This is why it's important to get multiple estimates before zeroing in on a garage door repair contractor. Compare estimates from 2-3 different contractors and then decide on the most suitable one.
Get Everything in Writing
Prior to hiring a contractor and authorizing any work to begin, make it a point to get a written contract that clearly specifies the scope of job, the price, labor, and the time it will take to complete the job. Read the terms of agreement thoroughly before signing the contract.
Make sure to get a statement in writing that all sub-contractors have been paid in full after the job is complete in order to avoid any further disputes.
Never Pay a Huge Upfront Amount in Cash
Be wary of contractors demanding an upfront payment, especially in cash. Genuine contractors will typically request payment once the service appointment is complete.
Follow these tips and stick with a trusted and reputed garage door company in the market & avoid being a victim of a contractor scam.